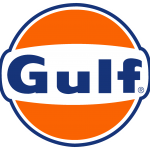 Gulf Oil was founded in 1901 but is a very modern and forward-thinking company.
Gulf's iconic status has been contributed to by several victories and top three places on the famous Le Mans 24-hour race, and stars such as Jacky Ickx, J.J.Lehto, Mike Hailwood, Derek Bell and others have been racing in Gulf's colors in various races. Being represented even today in various races such as car rallies, off-road, the Le Mans series, motor racing circuits, motocross, etc., we guarantee the innovation and high quality of Gulf oils and greases.
The Gulf product range includes engine, axle, transmission and hydraulic oils for all kinds of vehicles, as well as oils and lubricants for agriculture, marine and industrial applications.
US-Parts is the official distributor of Gulf Oil in Finland, Estonia, Latvia and Lithuania since 2002.
Additional information regarding Gulf products: